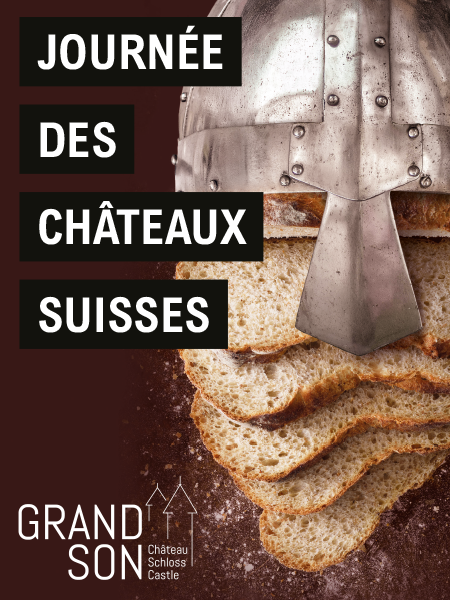 Sunday 2nd October : Take part in our great educational banquet!
Learn while having fun !
Were there vegetarians in the Middle Ages? Were röstis already eaten in the 12th century? It is said that the dishes were eaten on slices of bread used as plates, is this true?
Venison, hypocras or moretum, discover what is hidden behind these obsolete words during our great didactic and interactive banquet! Our team will invite you to discover the food and culinary preparations of our medieval ancestors and you will be able to make your own ceramic goblet or simply let yourself be carried away by the tales.
Detailed programme for Sunday 2nd October  :
10 am – 4 pm: Interactive and educational banquet
10.30 am, 11.30 am, 1 pm , 2 pm, 3 pm: Medieval pottery workshop – make your own ceramic cup!
10.30 am, 11.30 am, 1 pm , 2 pm, 3 pm: Tales
—————————————-
🏰 Salle d'Armes of the Castle of Grandson
🕓 Opening hours :  10 am – 6pm
🎫  Price for the day and activities :
Adults : CHF 20
Children and Teenagers (6-18 years old) : CHF 15
—————————————-
Informations :
😋 A medieval-influenced food is proposed for lunch at the Café-Restaurant Le Châtelet.
The 7th Swiss Castle Day is organised within the Swiss Castle Association. More information on this event : www.dieschweizerschloesser.ch